A friend suggested a song to me a few weeks ago. Music is one way that God speaks to me and He knew I needed this reminder.
I'll praise before my breakthrough
Til my song becomes my triumph
I will sing because I trust You
I will bring my heart, I will lift my song
When I'm listening for Your voice
And I'm shutting out the noise
I know that You will speak
Clearly
When I'm living out my faith
When I'm stepping on the sea
I know You take my hand and
Walk with me
Some of you may remember how long my original VISA application took. It took almost a full year, start to finish. This was definitely a workout in faith. I had to remind myself not to dig up in doubt what I planted in faith. I knew God wanted me to move to Texas to expand the care for our youngest crew. Eventually my VISA was approved and I look back on a challenging yet fruitful season of waiting.
It turns out that my VISA extension process is not much different. The first three years of my VISA are up which means that in May Mercy Ships started an extension process. My understanding is that this usually is not a difficult process, but I guess I'm special… US immigration requested more evidence of why I am still needed for this specific position. Over the last several weeks myself and a few others have worked very hard to collect all sorts of documents to show why I need to continue what I do. It has been quite the journey. I am thankful for wonderful coworkers that went above and beyond to collect all the required documents. The below pile was submitted to immigration last Friday.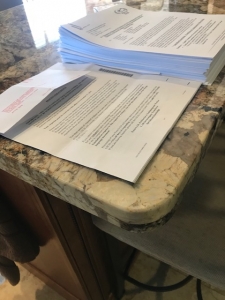 My supervisor keeps telling me that whenever I feel low or doubt myself I should just read this pile of paperwork as it basically is a collection of praise reports.
Apart from the amount of work we had to do for this VISA extension, I also encountered issues with my driver's license. I wasn't able to renew my license as it is tied to my VISA. There seemed to be a communication glitch between the DMV and immigration which resulted in me not being able to drive for two weeks. Most of you will understand how hard it is to live in East Texas without a license. I had no idea how long it would take to resolve this issue, fortunately, it only took two weeks.
At the moment I am in a season of waiting. Waiting for this new submitted evidence to be reviewed and waiting for an answer whether or not I am allowed to stay or that my time here in Texas is coming to a close.
The last few months have been quite the workout in faith again. There have been days that I felt defeated and just deeply sad. There were days that I could laugh at the whole situation, knowing that it will be a great story once it's all in the past. Some days I have been frustrated with the whole process trying very hard to hold it together and not be a bit annoyed. But honestly, most days I am at peace. I am prayed for and the pile of paperwork has been prayed over. I KNOW that this process and my future is in God's hands. Whatever the outcome, whatever the future will be. I choose to praise Him before my breakthrough AND I choose to praise Him in the process.
God has been reminding and teaching me throughout this whole season to remain faithful to what He has called me to do. Currently that means spending time with this sweet girl.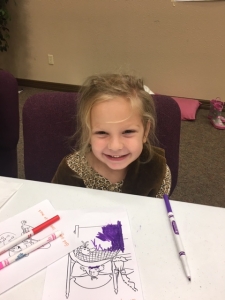 She is part of the Fall On Boarding program. We may not have a full Kids On Boarding program, but we make it work. We share several moments a week learning more about God, how He speaks to not only her parents but also to her, about emotions and how we can calm down when things are difficult, we talk about culture and what life on the Africa Mercy will be like. What an absolute privilege to spend time with her. She has reminded me over and over again that every child deserves our love and support as she serves alongside her parents.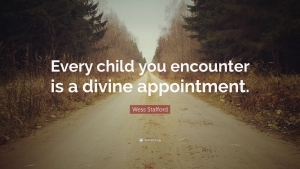 Thank you for reading this update. I welcome your prayers as I wait…
https://www.remynder.nl/blog/wp-content/uploads/2331699-Wess-Stafford-Quote-Every-child-you-encounter-is-a-divine.jpg
2160
3840
remyvandenbogaerdt
https://www.remynder.nl/blog/wp-content/uploads/remynder-logo-1.png
remyvandenbogaerdt
2019-10-22 15:22:33
2019-10-22 15:22:33
Praise Before My Breakthrough